Evaporative Pad and Fan system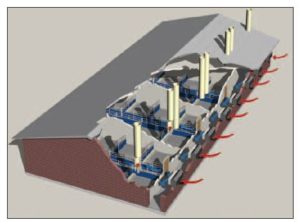 Evaporative cooling system made of high-quality plastic. it is an innovative system for farm ships suitable for all animals and birds.
in the case that the quality the water is low, the evaporative system is the best alternative compared to other cooling systems with cellulose honeycomb conventional panels. the option to have evaporative panel made from high-quality plastic with aluminum or Plastic fiber reinforced frame(GRP).
It is available in various sizes and with different capacities of air flow : 5000 m3 / h 10 000 m3 / h and
20 000 m3 / h.
Operating mode
Water is applied at the top of the panel. When the hot air is sucked
from outside to inside the farm, it enters contact the large area of wet surface, it absorbs moisture. This causes an evaporative cooling effect, and reduces the internal temperature of the farm. The system is controlled by smart ventilation controller.
The advantages at a glance
) The plastic evaporative panel supports poor water quality (Salts, iron, algae) so there is no influence
negative on the efficiency of system.
) plastic Panel lasts much longer compared with panel systems made of cellulose.
) The large surface area of the plastic material guarantees high cooling capacities.
) Easy installation and maintenance.